The first Tri-Cultural Symposium sponsored by Jemez Springs Public Library received a lot of publicity and attracted attendees from all over the U.S. Here are some examples of the stories.
Excerpts from a column by Jim Belshaw in the Albuquerque Journal, Oct. 10, 2005:
I like the way that, three years ago, Morris [Taylor] had a grand idea about getting three literary Masters of the Universe together in Jemez Springs to talk about what they do. For free.
He thought it would be a good way to benefit the library.
The way I heard the story this past weekend, Morris offered up his idea and everyone said, 'Sure, Morris. You go ahead and do that. Let us know when you get it lined up.'
So he did. . . .
Now I can have just a moment to talk about Morris Taylor, who is now 80, and who lives in Jemez Springs in the company of smart, thoughtful people who may spend their days in a small place but don't entertain small ideas.
Three years ago, Morris wondered aloud if he could get N. Scott Momaday, Rudolfo Anaya and Tony Hillerman to come to the Jemez Springs [sic] High School on their own dime for the Jemez Springs Tricultural Symposium.
So he called them and asked. All three said they'd do it, and people came from all over the country to hear them.
Belshaw was one of the 2005 symposium speakers.
Transcribed from Jemez Thunder, Feb. 15, 2002

NEW MEXICO AUTHORS SPEAK TO HUNDREDS
About 500 people crowded into the Jemez Valley High School auditorium on Feb. 2 for the symposium featuring New Mexico authors Tony Hillerman, Rudolfo Anaya and N. Scott Momaday. The state's three literary giants had never appeared on the same stage before, and people came from as far away as Seattle specifically to attend the event. The Albuquerque Journal covered the event, and radio station KUNM made a tape recording for possible future broadcast on National Public Radio.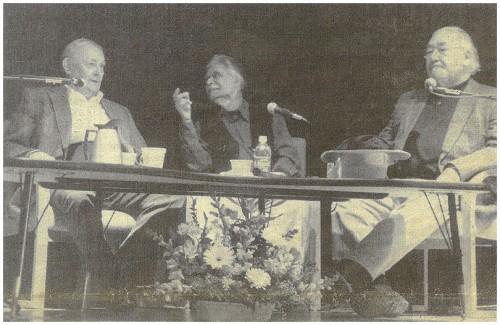 Morris Taylor of Cañon organized the symposium as a celebration of New Mexico's tri-cultural heritage Anglo, Chicano and Indian – as well as showcasing the literary talents of the state. The Friends of the Library helped sponsor and promote the event. Kathleen Wiegner, editor of the Jemez Thunder, acted as moderator. Hillerman is best-known for his novels about Navajo policemen working in the Four Corners area; Anaya is the author of Bless Me Ultima, and Zia Summer, among others; and Momaday, a recipient of the Pulitzer Prize, is a resident of Jemez Springs whose works include House Made of Dawn and The Way To Rainy Mountain. Books were provided by Bookworks of Albuquerque, which the authors were happy to autograph for their readers, a portion of the book sales going to the Friends of the Library. There was no charge to attend the symposium.
Jemez Springs Librarian Judith Isaacs welcomed everyone to the symposium and introduced Johnnie Garcia, the Mayor of Jemez Springs, and Paul Tosa, Governor of the Pueblo of Jemez, both of whom gave welcoming addresses.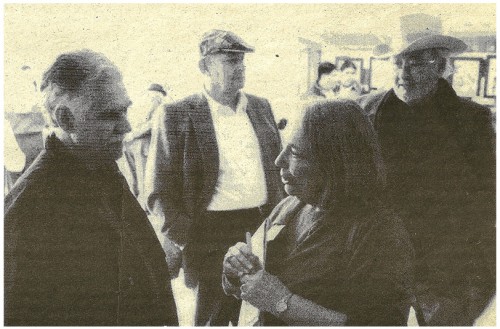 Each author began with a brief statement of introduction. Tony Hillerman responded to what he called an "FAQ" – a frequently asked question – about "Why is some redneck white guy writing about Navajo Indians?" He said that he grew up with Indians and attended Indian school. He said that society was divided into "us vs. them," though the division was not racial or ethnic, but the difference between town kids and country kids. Hillerman said he was a country kid then, and still feels like one to this day. He said he always felt at home with the Navajos and admires their value system. Rudolfo Anaya spoke of his childhood in Santa Rosa on the Pecos River, and how he always felt closer to river valleys than to mountains. Some years ago, he bought a little house in Jemez Springs and raises fruit trees and corn on the property. It occurred to him that, in a way, he had returned to the river valley of his childhood, many years later, in the Jemez Valley.
Scott Momaday spoke of spending most of his life in Indian cultures, with the Kiowas in Oklahoma, the Navajo reservation in the Four Corners area, and the Pueblo of Jemez. When he moved to the Jemez Pueblo, he said, "I woke up and beheld a new world. Marco Polo had nothing on me. I had come to my greatest adventure, my growing up." He spoke of the Buffalo Trust, which he founded four years ago to help Native American children regain and preserve their Indian identity.
When asked about where they had learned their storytelling abilities, both Momaday and Anaya cited the oral traditions of their own cultures. "I grew up with stories, the cuentos of the Spanish tradition," said Anaya. "Listening to them as a child was very formative. Later I loved reading them." However, said Anaya, the oral tradition is getting lost. He said that it was important to collect the stories into books and to get them into the classroom. Momaday talked about how his father was a storyteller and told the stories of the Kiowa. "I write in the oral tradition and I also teach in that tradition," said Momaday. "Writing gives us a false sense of security. In the oral tradition, everything is just one step removed from extinction." Hillerman remembered his childhood in a tiny town in Oklahoma where his family were farmers and his father ran a sort of general store. "People would come to the store and tell stories," said Hillerman. "I discovered that if you could spin a yarn, people would pay attention."
Momaday said that he did not think of himself as an Indian writer. "I don't know what that means," he continued. "Literature is literature. Categories don't mean that much to me." Anaya, however, told the audience that he strongly identifies with being a Chicano writer. "It has been very exciting to be a part of a movement." Hillerman said he did not think of either Momaday or Anaya as "a hyphenate" but as great writers. He said he thought of Momaday as a poet and that when he thinks of Anaya he thinks of his characters who are " good country people, genuine human beings."
When asked about how New Mexico had inspired them as writers, both Momaday and Hillerman talked about the state's varied and spectacular landscape. "I like the variety of this state," said Hillerman, "and I like a state full of empty spaces." Anaya, however, said that if he had to make a choice between places and people, he would say that his inspiration comes from the people.
The authors then took questions from the audience, talking about their writing habits, future projects and what they read. Momaday had the audience laughing when he told them that everyone should say they have "a work in progress." It's like a credit card you can draw on, he said. Anaya revealed that the "Spring" book in the novels he has been writing with seasons of the year in the titles might be called "Jemez Springs." Hillerman also amused the audience with his discussion of a pig launcher, part of the research on pipelines he is doing for a book he is working on.
The final question concerned how the events of Sept. 11 had affected each author. Hillerman got a loud ovation when he said he was concerned that the government would respond by "ripping up our Constitution.  Anaya said that when he saw the towers topple, he thought of all the souls who had died unprepared. "I pray for those people," he said. Momaday concluded by saying that the events "have made us think of human life, the planet, and our souls in a new light."
Letter to the Editor from former Jemez Springs mayor, David Sanchez. Transcribed from Jemez Thunder, February 15, 2002
AUTHORS SYMPOSIUM WAS A GREAT EVENT
It is always satisfying to see an idea go from the abstract to the concrete and to see so many so satisfied as a result. Such is the case of the Authors Symposium recently held in the setting of the Jemez Valley featuring Tony Hillerman, Rudolfo Anaya and Scott Momaday. Many large cities would envy having these three eloquent, famous authors at the same time at the same place.
Morris Taylor, Sara Winter, Kathleen Wiegner, Judith Isaacs, the Friends of the Jemez Springs Library, and the Jemez Springs Library Board pulled off an event that defies description. Congratulations to all involved, especially all the volunteers who helped the All-America City Award Winner live up to its reputation.
David Sanchez, Jemez Springs
Transcribed from Albuquerque Journal, Feb. 6, 2002
N.M. Authors Go Back to School: Momaday, Anaya and Hillerman Participate in Symposium at Jemez Springs High

by Anthony DellaFlora, Journal Staff Writer


 CANON – It was a once-in-lifetime-event – the first public appearance together by renowned New Mexico authors N. Scott Momaday, Rudolfo Anaya and Tony Hillerman.

Saturday's symposium at Jemez Springs High School was more like a gathering in someone's living room.

The living room was actually the school gymnasium, and more than 400 visitors from all over New Mexico, neighboring states and places as far as Seattle, New York City and Detroit were crammed into it. Many were standing.

The three authors conducted an intimate and humorous discussion about everything from the writing process to their reaction to the Sept. 11 terrorist attacks to why they love living in New Mexico.

"It was awe-inspiring. I'm gonna run home and write a novel," said Anaya, who, like Momaday, maintains a home in nearby Jemez Springs.

"A Pulitzer Price (winner) on one hand, Tony Hillerman on the other and I'm trying to think of what to say," Anaya said. "It was fun; it was enjoyable and the outpouring of people who came to listen to three humble writers even makes you more humble."

Hillerman and Momaday enjoyed themselves, too.

"It was a great honor. I respect both of them very much. They're good writers, and it's just nice to be in their company," Momaday said.

The afternoon brought together Momaday, a Kiowa, whose novel "House Made of Dawn," won the Pulitzer Prize; Hillerman, the best-selling author of a series of mystery novels set on the Navajo Reservation; and Anaya, widely recognized as the father of Chicano literature and the author of "Bless Me, Ultima."

As visitors began filling up the auditorium more than an hour before the event, they were greeted by tables laden with the works of the prolific authors.

Most of the stock was gone by the time the authors sat down to sign their books afterward.

"It was wonderful," said Josephine Yazza, who lives in northern Arizona. "I thoroughly enjoyed it, because it's always nice to get a down-home thing. It feels better when you get to see them and you understand some of their stories.

"Eloquent, they were all so eloquent," said Jemez Springs resident Judy Cunningham. "It's so amazing to see these guys. They're your neighbors and your friends, and they're up there expounding all this wisdom."

"I think it was terrific," said Kathleen Wiegner, who moderated the discussion. "I thought the authors were forthcoming. I thought they were funny."

Hillerman started off, for example, by answering a question he said had been posed to him before.

"How come you, a redneck white guy, is writing about Navajos, or about any kind of Indians?" he said.

Hillerman explained that he grew up in Oklahoma, among Indian children, and developed an affinity for them, which carried into adulthood.

At another point, Anaya recalled his reply to a question about the writing process.

"I don't have any trade secrets. Go out and feel some pain," he said.

Phyllis Morgan, who drove up from Albuquerque, spoke for many in the audience.

"This is a real treat. I'm really excited. I've been sick; it was like getting off my death bed," she said. "I wouldn't miss this for the world, even if they had to wheel me in on an operating table or a wheelchair."

The event was organized by Friends of the Jemez Springs Library.
Transcribed from El Paso Times, September 15, 2002

PROMINENT NM WRITERS TO SPEAK

Prominent New Mexican authors Denise Chávez, Micheal McGarrity and Simon Ortiz will be featured speakers at the second annual Tri-cultural Heritage Symposium in Jemez Springs, N.M.

The symposium will be from 3 to 5 p.m. Oct. 5 at the Jemez Valley High School. The Friends of the Jemez Springs Library sponsors the event. Jemez Springs author N. Scott Momaday will moderate. An authors' book signing will follow the symposium. "It is the goal of the Friends of the Library to continue to attract distinguished authors, who may not have previously met together, to provide a truly unique literary experience," event coordinator Morris Taylor said.

Chávez is a Las Cruces author and creative-writing teacher. She is the author of the critically acclaimed novels "The Last of the Menu Girls" and "Face of an Angel," which won a National Book Award. Her latest work is "Loving Pedro Infante."

McGarrity created the popular Kevin Kerney mystery series. He was a Santa Fe County deputy sheriff before turning to writing full time. His first Kerney book, "Tularosa," was published in 1996. His most recent, "The Big Gamble," was released in July.

Ortiz is a poet, fiction writer, essayist and storyteller. He is a native of New Mexico's Acoma Pueblo. His earlier works include "From Sand Creek," "After and Before the Lightning" and "Woven Stone." His most recent book, "Out There Somewhere," was published in March.

Momaday is a Pulitzer Prize-winning novelist, poet, artist, literary critic and PBS commentator. He was a featured speaker at the first Tricultural Heritage Symposium, along with Rudolfo Anaya and Tony Hillerman.

The symposium is free, but donations are accepted. Advance registration is not necessary.