The Jemez Springs Public Library gained widespread recognition with a series of Tri-Cultural Authors Symposiums. Starting in 2001 and organized by Friends of the Library, all authors had ties to New Mexico. Each panel, except the last, represented the three New Mexico cultures: Native American, Hispanic and Anglo. The first symposium featured three nationally known authors, two of whom lived part time in Jemez Springs: N. Scott Momaday and Rudolfo Anaya. Momaday is best known for House Made of Dawn, for which he won a Pulitzer Prize. Rudolfo Anaya is known as the "father of Hispanic literature" and best known for his novel, Bless Me, Ultima. Tony Hillerman, the third author, gained immense popularity for his series of mysteries set on the Navajo Nation. Poster art and design were all contributed by local artists. All aspects of the symposia were done through the work of volunteers.
2001: Rudolfo Anaya, N. Scott Momaday, Tony Hillerman. Poster design by Erica Kane.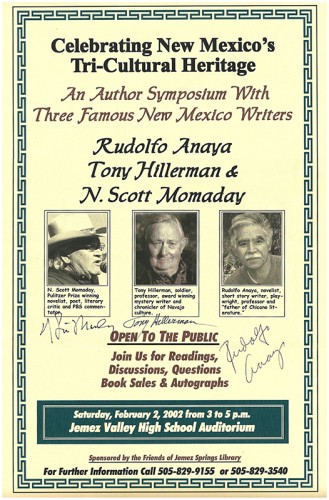 2002: Denise Chavez, Michael McGarrity, Simon Ortiz. Poster design by Erica Kane. Photo by Theodore Greer.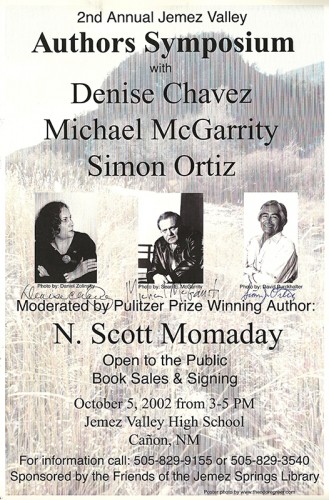 2003: Rina Swentzell, John Nichols, Demertria Martinez. Poster design by Erica Kane. Poster art by Ryzard Wasileski.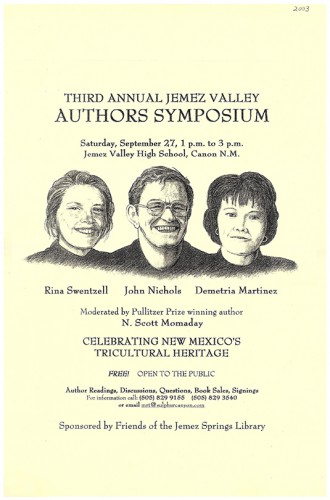 2004: Paula Gunn Allen, Judith Van Gieson, Loida Maritza Perez. Poster design by Erica Kane. Photo by Theodore Greer.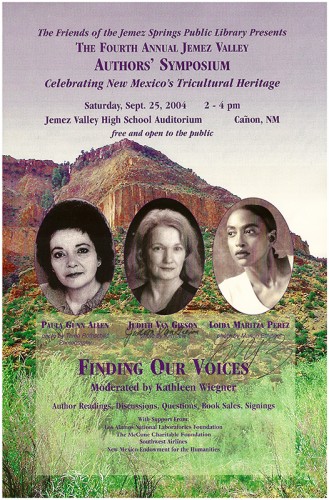 2005: Nasario Garcia, Joe Sando, Jim Belshaw. Poster design and photo by Linda ViVona.
The fifth Tri-Cultural Author's Symposium featured Nasario Garcia, award-winning author and oral historian of life in New Mexico's Hispanic villages; Joe Sando, Pueblo of Jemez, Director for the Institute for Pueblo Indian Studies/Pueblo Archives housed at the Indian Pueblo Cultural Center in Albuquerque, NM; and Jim Belshaw, columnist for the Albuquerque Journal.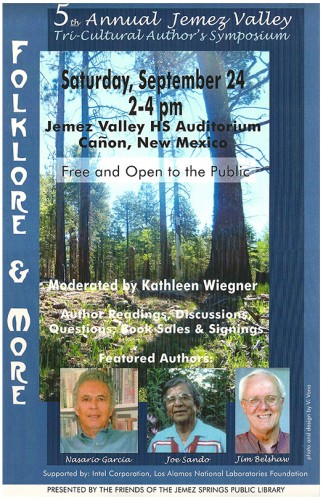 2006: Thomas Chavez, Lee Marmon, Ferenc Szasz. Poster design by Linda ViVona. Photo by Theodore Greer.
The sixth Tri-Cultural Author's Symposium featured Thomas Chavez, noted  New Mexico historian; photographer Lee Marmon, Pueblo of Laguna; and Ferenc "Frank" Szasz, University of New Mexico Regents' Professor of History.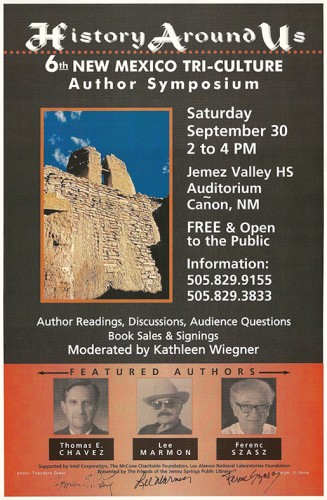 2007: Jane Lindskold, Stephen R. Donaldson, Walter Jon Williams.
Poster design by Harriette Lawler. Illustration by David Martin.
The seventh and final of the symposium departed from the previous format to feature all science fiction/fantasy writers. While all had ties to New Mexico through residence and/or education, they did not represent the three cultures as did the others.