With community involvement, we are building a digital archive of historical information about the Jemez Valley and surrounding areas to include known human history as well as the unique geology and natural mineral hot springs.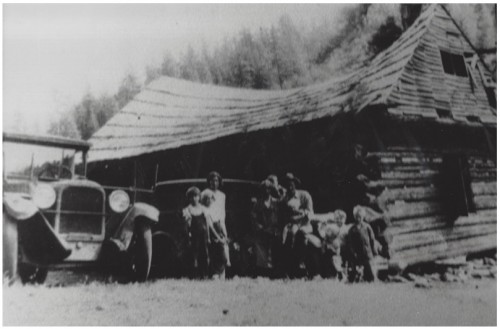 The geographical scope of this historical archive is roughly the southwestern part of the Jemez Mountains: bounded on the north by Fenton Lake, Seven Springs, and Hwy. 126; on the east by the Valles Caldera; on the south by the Village of San Ysidro; on the west by the Nacimiento Mountains and the Village of Cuba. While Los Alamos and the Pajarito Plateau are important in the area's history, that part of the Jemez is well-served by other online resources. This map in a Circle K ad from the Sandoval County Review, September 4, 1978, illustrates roughly the area covered in this history.
The human scope of this history is an overview of explorer and land grant eras and more detailed information from families who settled here in the 19th and early 20th centuries. Jemez Springs Public library acknowledges that the land on which these histories took place was originally inhabited by the ancestors of the pueblo of Jemez, who now reside at Walatowa due to forced removal in the late 1600s. This site does not attempt to appropriate the telling of indigenous history, but rather provides links to existing respected resources.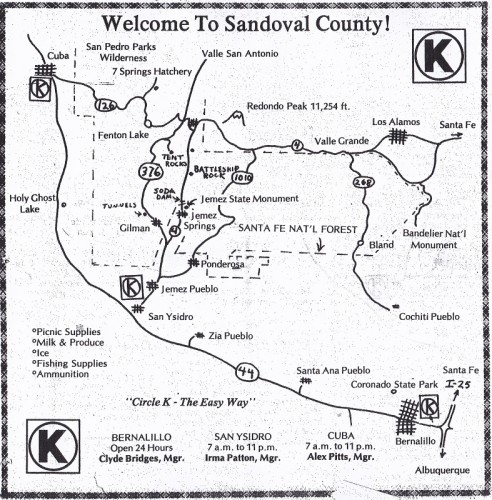 Information will be added to this archive continually by our volunteer writers and researchers, as well as members of the public who wish to share anecdotes, memories, and images. Volunteers conduct interviews, contribute their stories and images, and suggest leads for additional research. Please browse around using the menus and search options.  If you have something factual to add to a historical post, please use the contact link to let us know.   Your ideas and comments are welcome! Thank you for your interest and support of this exciting project.
The Jemez Valley History project was started in 2015 and funded in part by the Friends of the Library. Content is written and edited by Judith Isaacs, a volunteer, and Amanda Lewis, a library assistant. Janet Phillips, Library Director is the overall coordinator. For further information please contact us.
2015-03-18