Rancho Rea/Lazy Ray
Rancho Rea was a popular guest ranch on Cebolla Creek two miles above the fish hatchery. It was started in 1925 by Seth Seiders, according to a short memoir written by Alice Fenton, he built a road into the canyon at great expense. Fenton wrote that the road past the Lazy Ray was a main road at one time, leading to Espanola. Facilities at the Lazy Ray included bunkhouses for hands, a big house for guests, rodeo grounds, barn, and lake. Entertainment included hunting, fishing, trail rides, polo, swimming, bobsledding, ice skating, sleigh rides, target shooting and weekly rodeos. It claimed to be very exclusive and was reputed to have hosted Al Capone. Its popularity is indicated by the many historic postcards that have come to us.
It changed hands and names several times over the years, settling on Lazy Ray in 1946 when it was owned by Ray Craig. It finally closed in the 1970s, and the Forest Service acquired the land. One of the postcards from Rancho Rea's heyday reads:
Located 85 miles NW of Albuquerque, NM in the green, picturesque Jemez Mountains, at the southern end of the Colorado Rockies. Fast, luxurious Santa Fe train service to Albuquerque or Bernalillo, NM, then by Packard or Pierce-Arrow through the most colorful country in the Southwest.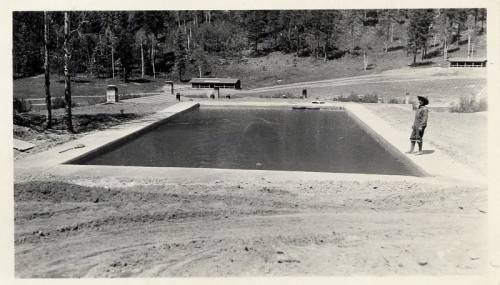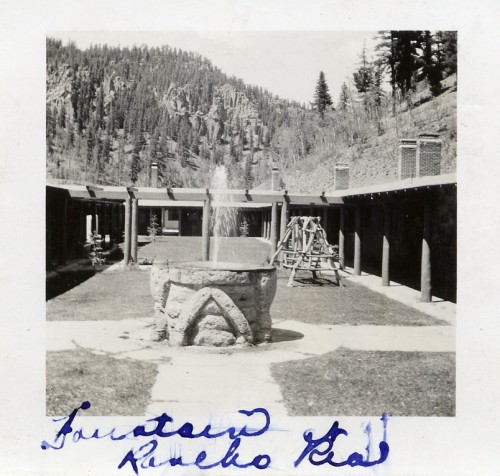 Today the site of the Rancho Rea is a lovely valley with a hiking trail leading to a stock pond.