These are selected drafts of short chapters that will be in a forthcoming book, titled: "Jemez Valley Sketches: Cultural and Natural History Stories." Some of these were originally published as articles in the local newspapers "The Thunder" and "After The Thunder." They have been expanded somewhat, including multiple B&W and color photos, maps, sketches and other artwork. Also, numbered endnotes provide sources for the histories, and some side stories. The forthcoming book will hopefully be published in 2024.
Chapter One — Juan de Oñate's Visit to the Jemez
Chapter Two — San José de los Jémez Mission
Chapter Four — Treasures of the Spanish Queen Mine
Chapter Nine — Dry Goods, Saloons & Sheep: Origins of Los Ojos Bar 
Chapter Nineteen — Presbyterians in the Jemez
Chapter Twenty-Two — Soda Dam, Logs, and Floods
Chapter Thirty-Nine — Hippies and Hot Springs in the Jemez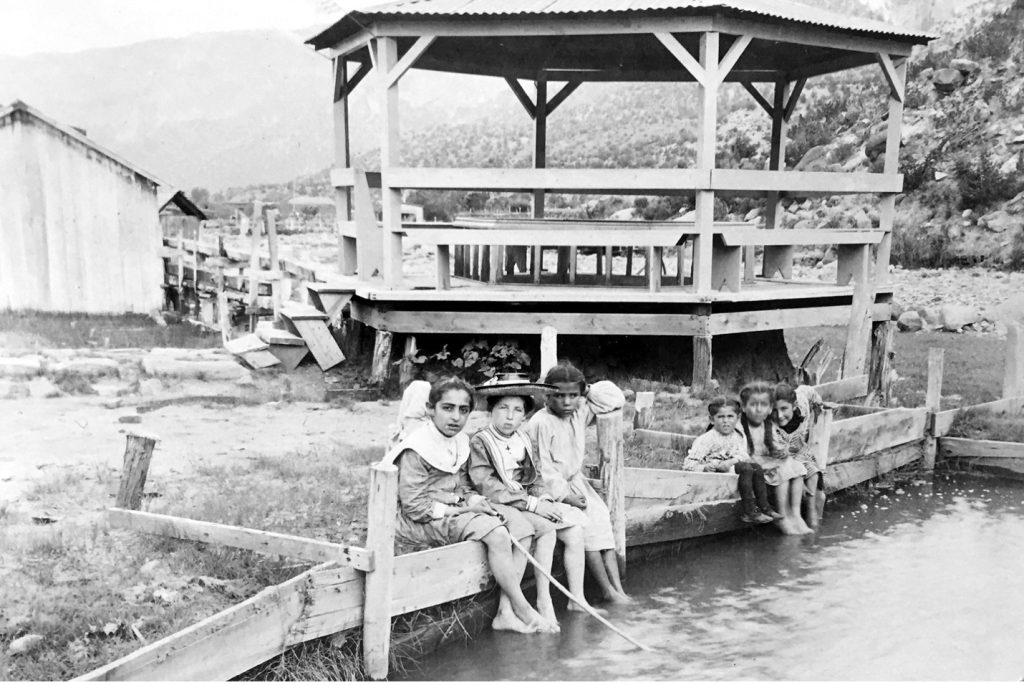 The hot springs in the middle of our village have been a favorite destination for visitors and local people for centuries. An early written account by a visitor here in 1857 describes a hot springs business run by the Archuleta family with a bathhouse in a wooden log structure. Mariano S. Otero and his business partners built the stone-walled bathhouse in the late 1870s that is part of today's Bathhouse. In 1881 they built a hotel immediately to the north with about a dozen rooms for rent. That structure is now the old building on the Bohdi Manda compound.
The gazebo over one of the main springs also dates back to the 1880s or 90s, with various old photos showing different versions of that structure. One of my favorites is this photo taken by Richard Baxter Townshend in 1903. I have been unable to identify who these delightful young girls were, but I suspect they were either daughters of the large and prosperous Francisco Perea family who managed the hotel, or perhaps they were other local kids, or visitors staying at the hotel. (photo credit Pitt Rivers Museum, Oxford University, England). Tom Swetnam