(This is a private residence and not open to the public. Please respect their privacy.)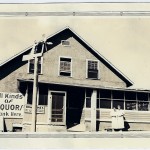 The Momaday house was built in the 1930s and served as a general store, post office, and rectory for Our Lady of Assumption Catholic Church. Its historical significance comes from the fact the from 1946-2011 it was occupied first by Al and Natachee Scott Momaday and later by their son N. Scott Momaday, a Pulitzer-prize-winning author, poet, and artist. In an article of unknown origin found in library files, he wrote this about the house:
My parents' home at Jemez Springs is a great old stone structure of two stories, massive fireplaces, and cool, dark corridors. It has, in its conformation of oak timbers, native stone, and adobe, the character of a castle, or of a haunted parsonage on the Yorkshire moors. It is, in fact, called Stonehenge, and it is aptly named, for there is a kind of Druidic mystery to it; it is informed with something like timelessness. . . . Stonehenge is filled with a rich and varied treasure, the possessions that have defined my parents' long tenure in the Southwest: baskets and rugs, silver and beadwork, woodcarvings and leathercraft, ancient pottery and innumerable paintings. The heads of wild animals, buffalo and deer, hang from the walls . . . It is a veritable museum of art, archaeology and natural history.
The Momaday house is no longer owned by the family. It continues to be a private residence and is not open to the public. Please respect their privacy.