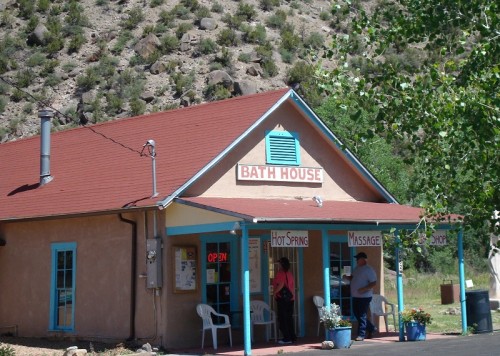 The best known of the historic structures in Jemez Springs is the Jemez Springs Bath House, which has been remodeled many times since its initial construction in 1881. Like most of the 100+ year-old structures in the village, it is not adobe; it is made of rock covered with stucco.
In the early days, a trip from Albuquerque took too long to go out and return in one day, so people camped or stayed in one of the two hotels. Visitors from that time have written that it looked like a tent city surrounding the bath house. Those here for a cure not only soaked in the tubs but drank the water to relieve their ailments. At one time, a swimming pool was part of the attraction; it has long since been filled in. The gazebo directly north of the bath house is the site of the original spring that served the bath house; it continues that function today. Behind the Bath House along the river, boiling water bubbles up to create a calcified mound, an ongoing demonstration of the hot springs in its natural state.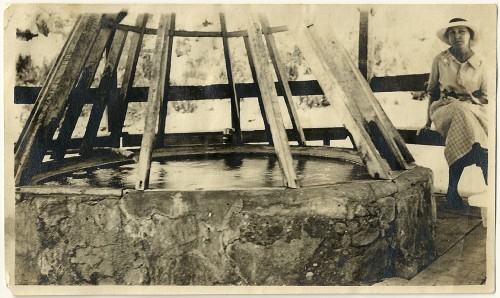 In the late 1940s, the owners sold the Bath House to the Catholic Church, which in turn sold it to the Village of Jemez Springs in 1961. The structure languished for sev­eral decades and then was leased to private operators, who restored the building. In 2003, the Village assumed operation.