From Jemez Thunder, December 01, 1996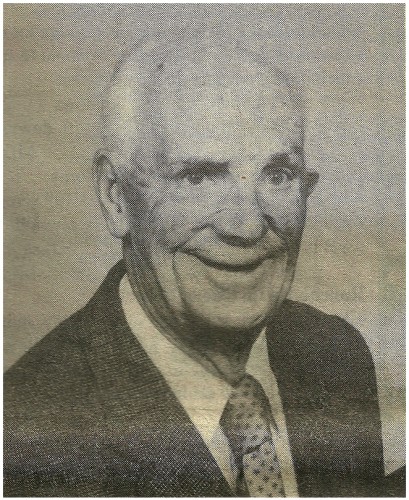 K.L. (Lloyd) Higgins, 85, a resident of Albuquerque since 1933 and New Mexico's well-known Music Man, passed away on the evening of Nov. 24 after a long illness dating back to March. He died at 8:05 p.m., surrounded by his family. Higgins was well known in the Jemez area because of his association with Hummingbird Music Camp, which he founded in 1959. Higgins was born in Vancouver, BC, Canada, in 1911. As a young boy, he was injured in a fire which deformed his right hand. He went to Chicago for treatment for his burns and was advised by the doctor to take up the French horn, a left-handed instrument. That was the beginning of his music career which spanned six decades.

In the early 1930s, Higgins was treated for tuberculosis in Chicago, and doctors told him that they would have to remove one of his lungs. The night before his scheduled surgery. Higgins left the hospital and took a train to New Mexico. He arrlved in Albuquerque with nothing but his suitcase and French horn. Because of New Mexico's dry climate and sunshine, tuberculosis patients were showing significant improvement here. He spent a year recuperating, playing chess and music, then approached Albuquerque Public Schools for a job.

Higgins was a graduate of Northwestern University in Evanston, IL. In Chicago, Higgins had taught at J. Sterling Morton High School and played horn with the Chicago Business Men's Orchestra. He began his teaching career in New Mexico as an assistant at Albuquerque High School in 1934, and a year later instituted the Elementary Instrumental Music Program. He taught music for 35 years with the Albuquerque Public School system, retiring in 1969.

As President-Manager for 21 years with the Albuquerque Civic Symphony (the precursor of the New Mexico Symphony Orchestra), he founded and sustained the youth concerts. Many of his students went on to become symphony orchestra professionals and music school teachers. He founded Hummingbird Music Camp north of Jemez Springs in 1959, motivated by his association with the National Music Camp in Interlochen, Ml. Hummingbird provides music lessons, band, chorus and orchestra education for students ages 8-14 throughout the year. Many of New Mexico's bands, orchestras and choruses attend Hummingbird for 1-3 day seminars. Higgins conducted ensembles and taught all the instruments in private lessons. He was noted by many for his deep understanding and patience in educating children. Students have been inspired to progress in music by his gentle touch.            His bands took pride in community service. He provided music from 1935 to 1996 for such diverse venues as the opening ceremonies for Carrie Tingley Children's Hospital (Truth or Consequences), Dukes baseball games, Fourth of July in Old Town, Madrid Town Parade, Christmas Parade, Jemez Springs Fourth of July festivities for 38 years, and all State High School Music Concerts administrator.

Among his awards, either as an individual or to Hummingbird Music Camp: New Mexico Cultural Arts Institution, New Mexico Music Educators Hall of Fame, Optimist of the Year, Governor's Award for Art Education, and New Mexico Symphony Orchestra Music Teacher of the Year Award.

He is survived by his wife, Wanda Higgins; brother Glen Higgins of Chicago, IL; sisters Viola Kelly and Iris Enwald, both of California; his children Elliott Higgins, Jean DeCarIo, Leslie Higgins, Sally Chapman and Teena King; and grandchildren Dean and Don Lagrave, Kristen, Kyle and KoriLynn Chapman, Brittney, Craigen and Taylor Higgins, John, Scotty and Christopher King, and Amber Higgins. He was predeceased by one grandchild, Ryan Chapman.

Services were scheduled for Nov. 29 at Heights Cumberland Presbyterian Church in Albuquerque, and a memorial service at Hummingbird Music Camp on Nov. 30. The family requests sympathies be expressed in the form of donations to the K.L. Higgins Music Student Scholarship Program, 104 Hummingbird Lane, Jemez Springs, NM 87025.